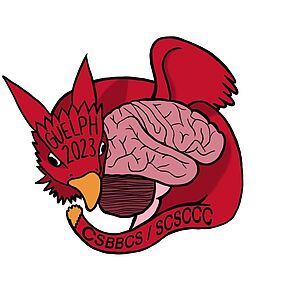 Welcome! The 33rd Annual meeting of the CSBBCS, hosted by the University of Guelph, will take place in-person July 17th to 19th, 2023 at the University of Guelph. The organizing committee is thrilled to be hosting this year.
Registration is open and costs $180 for Associate members and $220 for Full Members.
FOR PRESENTERS: Talks will be 12 minutes plus 3 minutes for questions. Posters must be a maximum of 5' x 4'.
Lunch, coffee, and snacks will be provided each day of the conference.
Banquet tickets are now sold out.
There is a WiCS-C session on July 17th from 3:15 pm to 5:00 pm.
There is a student social event on July 17th from 9:00 pm to midnight. Please note that this event is 19+.
T-shirts are available for purchase for $25.
Registration is CLOSED.
Check out all Guelph has to offer here.
The full conference program is available HERE!
Please check this page for updates and information.
The Canadian Society for Brain, Behaviour and Cognitive Science (CSBBCS) / Société Canadienne des Sciences du Cerveau, du Comportement, et de la Cognition (SCSCCC) promotes diversity and inclusivity among conference presenters and attendees. A safe, participatory environment is encouraged and expected of all who attend to ensure respectful scientific exchange.